Student Rabbi Matt Derrenbacher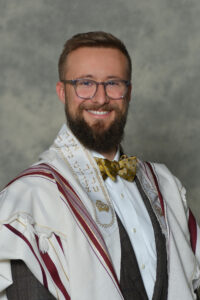 Matt Derrenbacher is a fifth-year rabbinical at the Hebrew Union College-Jewish Institute of Religion in Cincinnati. Matt grew up in a small town in Upstate, NY, where he received his BA in Religious Studies from Nazareth College of Rochester. Matt moved to Louisville, KY in 2014 to pursue a Master's while working as Senior Rabbinic Assistant and teaching b'nei mitzvah at The Temple. While working at The Temple, Matt received a unit of CPE at the University of Louisville Hospital. Matt finished his Master of Arts in Hebrew Letters in 2022, with Rabbinic Ordination anticipated in May 2023.
During his time at HUC, Matt has served as solo rabbi for Temple Bethel in Brownsville, TX, Temple B'nai Israel in Petoskey, MI, United Hebrew Congregation in Terra Haute, IN, as well as Senior Rabbinic Fellow for Hillel at Ohio University. During his summers at HUC, Matt has served as a Chaplain Candidate for the United States Air Force, serving Jewish and non-Jewish Airmen across the globe. Through the course of the Pandemic, Matt worked as a b'nei mitzvah tutor and Jewish educator for over 30 students worldwide for the Jewish Welfare Board and civilian congregations. During his fifth year at HUC, Matt will be serving Congregation Beth Shalom in Columbia, MO, as well as continuing his role as Senior Rabbinic Fellow for Hillel at Ohio University. Matt loves to read, run, lift weights, and play video games. At home, Matt runs a dog rescue with his wife, Brittany, for dogs with particularly challenging medical needs, called Luna Bell's Moonbows.